Phenolic Board Description

Exporter linyi of of 1/2 10/12mm poplar core phenolic board price. The film faced plywood is suit for many fields, for examples, construction, building, platform and furniture. 10mm phenolic board has 5 layers of poplar core and waterproof melamine glue. So there are many features, for example, lightweigh, easy to clean and cut. In order to seperate from concrete, we laminate the film on the face and back of the plywood, and cover the edges with black or brown color waterproof paint.
For more than 10 years cooperating with the importer and distributors from Manila, Cebu, Davao in Philippines, the products are sold well and the quality get high appraisal from customers. Famous brands,for example, Crocodile, Strongplex, Panda, Shuta, Rhinoply, Diamondplus, Solidply, Ultrafrom, Jelly Bird, Oxply, Imwood, Mlim and Arrow-ply. Look the video on Facebook.
Strength Test Datas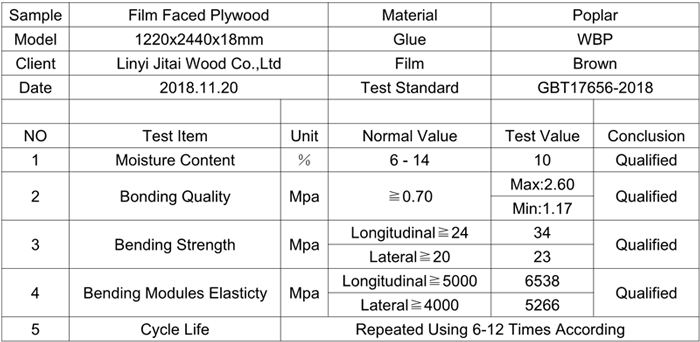 10/12mm Poplar Core Phenolic Board Price